The CLST Advisory Council convened
The CLST Advisory Council was held on June 15-18.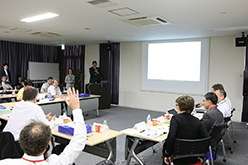 The Advisory Council is an evaluation system set up in Center to receive recommendations on both overall management and general research activities from nine of the eminent Japanese and international scientists in their respective field. CLST was established in 2013, and this is the first time that this Center have held the Advisory Council. At the recommendation, the international position of the CLST was recognized by the nine AC Committee Members, and appreciated the cross-divisional research and stated that they were very encouraged by what they had heard about it.
Report will be posted on the website.
[List of Advisory Council Committee Members]
Prof. Cheryl Arrowsmith, University of Tronto (Canada)
Prof. Allan Bradley, Wellcome Trust Sanger Institute (UK)
Prof. Lucio Frydman, Weizmann Institute of Science (Israel)
Prof. Masami Hagiya, University of Tokyo (Japan)
Prof. Christer Halldin, Karolinska Institutet (Sweden)
Prof. Chieko Kai, University of Tokyo (Japan)
Prof. Juha Kere, Karolinska Institutet (Sweden)
Prof. Shigekazu Nagata, Kyoto University (Japan)
Prof. Noboru Yumoto, Advanced Industrial Science and Technology (Japan)
Related labs