Masahito Yoshihara awarded at RIKEN Summer School
RIKEN Summer School 2015 was held on September 4th and 5th, 2015.
RIKEN Summer School is an annual event for young PhD students belonging to the programs IPA (International Program Associate)* and JRA (Junior Research Associate)*. Students from various research fields and countries actively communicated with each other.
* IPA and JRA are RIKEN's programs for young researcher.

At this school, Masahito Yoshihara (Transcriptome Technology Team) was presented with the "Medical Science Award". This award is given to the best poster presentation in the field of medicine at this school. The details are as below. 
Poster Title:
"Disease-associated variants in regulatory elements identified in the FANTOM5 project"
Awardee:
Masahito Yoshihara1,2, Yasuhiro Murakawa1,3, Hideya Kawaji1,3,4, Miki Nishikawa3, Hatem Zayed5, Harukazu Suzuki1, Yoshihide Hayashizaki3

1 Division of Genomic Technologies, RIKEN Center for Life Science Technologies, Yokohama, Kanagawa, Japan.
2 Department of Ophthalmology, Osaka University Graduate School of Medicine, Suita, Osaka, Japan.
3 RIKEN Preventive Medicine and Diagnosis Innovation Program, Wako, Saitama, Japan.
4 Preventive Medicine and Applied Genomics Unit, RIKEN Advanced Center for Computing and Communication, Yokohama, Kanagawa, Japan.
5 Department of Health Sciences, Biomedical Program, Qatar University, Doha, Qatar.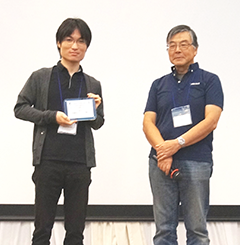 The summer school also had lectures by RIKEN's researchers where Dr. Jay Shin, Unit leader of Cell Conversion Technology Unit spoke on the subject of "Connecting the world - one gene at a time -".
Related labs